This is going to be one of our weekly things that we'll be doing on The Book Paparazzi. I, Lisseth, will bring you alerts on some AWESOME giveaways! If you know or are starting one & would like it to be mentioned here, then you are more than welcomed to email me HERE: lizzy9rule@gmail.com
These are some giveaways that I found & of course, entered!
Literature lion's 200 Followers Giveaway:
What are they giving away:
- Immortal City by Scott Speer (ARC)
- Mini notebook that says 'Novel Destinations.'
- Grave Mercy pin
- (Signed) Grave Mercy bookmark
- Welcome, Caller, This is Chloe bookmark
- Hemlock bookmark
- Hunted bookmark
- (Signed) Last Rite bookmark
- Mockingjay tattoo
- and if you're a blogger, a free blog design!
It sounds Pretty interesting. So If you wanna enter & maybe win, head on over
HERE!
School's Out Giveaway:
What are they giving away:
One winner will get to choose any one book of his/her choice from the list of anticipated summer releases below. And trust me, there are A LOT of amazing books coming out this summer! But if you would like another book that releases around this time instead, I could definitely substitute that in as long as it's under $20 (USD). :)
There are some to die for books I would want to win! To enter go
HERE
!
Literary Exploration 1,500 Followers Giveaway:
It's finally here!!!! Literary Exploration has reached an amazing 1500 followers!!!!! I feel so blessed to have so many people reading my blog and visiting daily, as well as having so many new people following every day! You all make the stress of blogging so worth it, and I'm amazed that I have anything worth reading to say! In order to celebrate YOU, my amazing followers, I have a special surprise!!
What are they giving away:
So,
one lucky winner
will get
all four Fierce Reads!
Included are a copy of:
Of Poseidon by Anna Banks, Struck by Jennifer Bosworth, Shadow and Bone by Leigh Bardugo, and Monument 14 by Emmy Laybourne as well as some awesome bookmarks and swagalicious stuff!!
I have read and LOVED each of these books and I'm hoping you'll enjoy your SIGNED copies as well!!!
This giveaway sounds AMAZING! To enter head on over
HERE
!
Ya-Aholic: Welcome Summer Giveaway!

Hey book lovers! It is time again to start another awesome giveaway for you awesome readers! :D This giveaway is going to be the 'Welcome Summer Giveaway' (yay!) Check out down below to see what bundle packs you could win and the details for entering! :D
Fiction Freak Giveaways:
So I was going to do something similar to this when I reached 300 followers, but I decided that if I waited too long then it wouldn't be techincally the start of Summer anymore, would it? Think of this as my giant giveaway of the year. Who knows? I might do one next year too.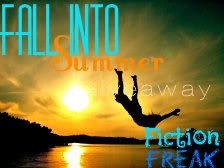 What are they giving away:
Any book that's released from August 16 to November 31. Techincally August isn't a Fall month, but a lot of awesome books are being released. I wouldn't want you to miss out on that! I'm not that mean.
So as you know, I like to do things a bit differently. Remember my 111 giveaway? Well I was going to do a 222 Giveaway, but we all know it's too late for that. After all, I have 280 followers now! (and no, I still can't believe that.) ?Right? Wrong. Introducing the 2-2-Too Late! Follower Giveaway. Oh, and don't forget to see my review of Arise by Tara Hudson. It's right below this post.By the way, these are all books that are either semi-popular, or not that popular.
Giveaways over @ Read-A-holicZ:
ONE copy of Against All Odds (International) To enter Click
HERE
!

100 Followers Giveaway!!
(international)
There are 24 YA BOOKS up for grabs! there will be TWO WINNERS!! Some are pre-orders & HURRY it ends JUNE 30th!!!
100 Followers Giveaway over @ YA Book Season:
To ENTER click HERE! There are like 12 entries so far, So a great deal that u will win!
Video:
If you follow me on Read-A-holicZ, then you know I love to include music in most of my posts! So if you stayed till the end, here is a great dance song!
Thanks for stopping by! =)